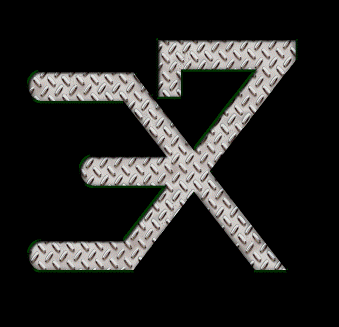 Three X Seven (3X7) formed in 2002 near the small rural Western Kansas town of WaKeeney. 3X7's sound parallels bands such as "Foo Fighters" as well as "Tom Petty and the Heartbreakers" and "Alice in Chains". Occasionally, you can envisage the diverging paths of various instruments implicit to "Red Hot Chili Peppers", frequently accompanied with an audio assault mindset reminiscent of "Muse".
Current members include: J.D. Hobbs Lead Vocals, Drums; Kenny Zahn Guitar, Vocals; Ryan Kaiser Bass, Vocals; Brian Frick Guitar, Vocals.
The inception of the band gradually fashioned years of live experience performing cover songs in local arenas. In the meantime, 3X7 established rehearsal space and commissioned its own commercial recording studio. 3X7 prompted their first self-produced debut album in 2005, "Changing the Odds"; an overtly raw grunge rock album that evokes a Nirvana-style songwriting and vocalist approach. The promotional tour for "Changing the Odds" ended abruptly when their drummer overdosed and died. The band would eventually regroup with a new lineup in the immediate years following.
3X7 expanded its potential with 2008's concept album, "Think about How You Think about Thinking". The second self-produced album took a turn with more challenging and experimental musical arrangements, a harder rock atmosphere, and an alteration of vocal style. Performing at various venues across the continental U.S., the band expanded its live shows across state lines succeeding their second release.
An adjustment to the band's musical direction ensued in 2009. While taking time away from touring, 3X7 worked with Nashville local, Neal James, to produce a pop/alternative-rock demo. This array of songs would solidify the foundation of the band's current endeavor into the pop/rock genre. 3X7 would continue finding its voice while writing an assortment of indie rock songs, mostly unreleased, in the course of the next 3 years. Throughout this phase, 3X7 would renovate and upgrade its studio into one of Kansas's premier high-definition audio recording facilities.
To everyone's dismay, a founding member of the band, Paul Kaiser passed away in August 2012. Being on the mend, 3X7 would once again have to regroup and recalibrate if they desired to struggle forth. Paul's younger brother Ryan Kaiser would take up the bass guitar and Brian Frick would join the group in the aftermath of the tragedy. With the construction of the studio complete and an iron spirit, 3X7 recast themselves with newfound musical inspiration, an authentic flair, and a rigorous transformation of perception.
3X7's third studio album revealed the band's sincerity and dedication after several years of writing, recording, and production. "Steroids for the Senses" was released late 2017 featuring coherent and distinct musical arrangements, distilled vocal melodies, and simple nevertheless insightful lyrical poetry. These aspects combine over a barrage of intricate sonic instrumentation. The album cover portrays a cunning prescription medication label informing the consumer of the contents as well as possible side effects, and provoking the listener to "TAKE DAILY" and to "TAKE IN HIGH VOLUMES". The CD cover is an apparent and playful meme corresponding to the prescription drug aspect of modern American culture.

"The introductory song, "Alive" takes the listener on a roller coaster of musical exploration and ends almost advantageously, departing the listener with a sense of incredulity. The next song "Find You" storms the gate with intricate harmonies that reside in an eerie verse sound-scape, suspended over a rigid groove of percussion and a concrete bassline. An identifiable vocal motif drives the song title home as the suspense resolves into the chorus. "For you" exemplifies the band's hard-rock personality, including later tracks "Superman" and "Stand Up". "Feeling Fine" polishes the raw, alternative, and divergent audio assault characteristics, an archetypal experience from the band. Finally, "Bleed" brings the listener down easy with an emotive and sensationally imperious serenade!" - Reviewer

3X7 released their first music video in 2016 featuring their single, "For You", which would gain several thousand views among social media. 3X7 would release a second music video for the title track "Alive" later in 2017 showing a bizarre allure of physical torture, which the band members had clearly endured while shooting the music video.
3X7 has forged a veteran mentality in the last 16 years, never giving up and always chasing the American Dream. They have pressed and sold over 2,000 copies of their self-produced Cd's; shared the stage with headlining acts such as "Default", and performed for audiences numbering in the tens of thousands from the East to the West Coast. Their songs have been featured on multiple local and regional radio stations in the Midwest. Stations including: KJLS-MIX 103.3 Hays, KS; KRDQ-100.3 the Ride Colby, KS; and numerous internet radio stations. 3X7 also has been showcased on "Access T.V." of Salina, KS. The band has been featured on the cover of The Hays Daily Newspaper. They have worked with a Grammy Award winning producer and gained major label interest. 3X7 has supported its long lived career without the services of booking agents, representation, or artist management.